This auction is for an original piece of artwork drawn by me, Sailor Lum. I draw in the anime/manga style shown below. I can also draw a super cute manga style reminicent of Junko Mizuno (see the Lum below right). See below for a few samples of my work in pencil or pen sketch, ink, colored pencil, and CG. I accept hentai commissions as well.
| | |
| --- | --- |
| This is one of my favorite Lum peices. It was done in pen sketch and then scanned in the computer, inhanced to darken the lines and colored with Paint Shop. | This is the cutie Junko Mizuno-esque style. This is a just a plain ol' pen sketch I did on the fly. A finished peice would be polished and inked and or colored to your liking. |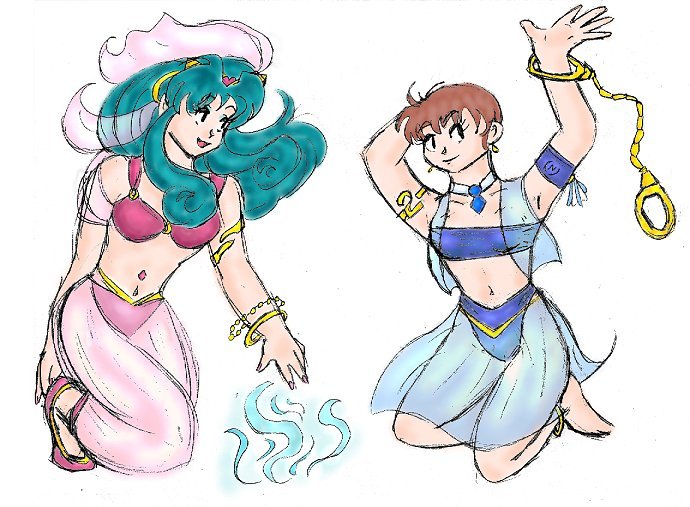 This was done with pencil and and then scanned in the computer, inhanced to darken the lines and colored with Paint Shop.
| | |
| --- | --- |
| This is just a cute little pencil sketch I did. A finished peice looks much smoother and is much more polished. | This is a pencil drawing colored with colored pencil. The scanned image has been cropped. |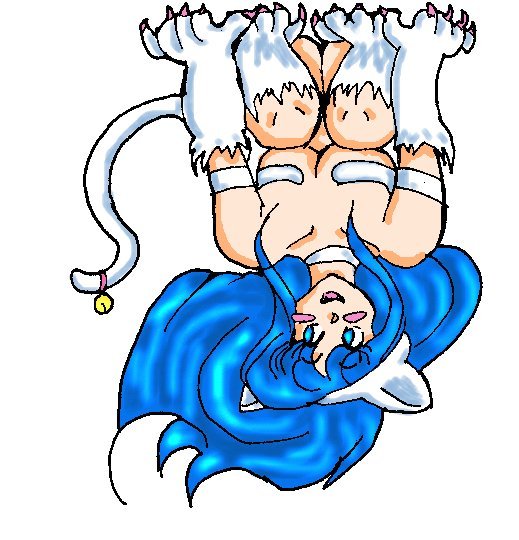 This was first drawn in pencil, then inked then scanned in the computer and colored with Paint Shop Pro. It was scanned in as line art which is why the lines look kind of jagged (and that is why I don't scan stuff in as line art anymore.)

This is a panel from my online doujinshi. This was done with pencil and and then scanned in the computer, inhanced to darken the lines and colored with Paint Shop.
Mediums I work with:
*Pencil
*Color Pencils
*CG
*Ink
What I will/will not do:
I will draw any existing anime/manga/manga-style game character in a simple background (no extra-realistic backgrounds) Also, up to two characters per drawing (three depending-ask).
My specialties are: Urusei Yatsura (esp. Lum), Patlabor (esp. Noa, and Ohta), Sailor Moon, Tenshi ni Narumon, Revelutionary Girl Utena, Ranma 1/2, Maison Ikkoku, NG Knight Lamune & 40, Tenchi Muyo, Inu Yasha, Gunsmith Cats, Peach Girl, and The Dirty Pair.
I'm familiar with the following anime/mangas/games: King of Fighters, Darkstalkers (aka Vampire Savior etc.), Slayers, Card Captor Sakura, Marmalade Boy, 3X3 Eyes, Nuku Nuku, Ogenki Clinic, any other Rumiko Takahashi series, Rayearth, Gall Force, Fushigi Yuugi, Ayashi no Ceres, and many many more.
If the anime/manga/game you want isn't listed above, send me some reference pictures and I will draw your character. Tell me the show and I'll let you know if I even need reference pictures for that particular character. You can also commission an original picture. Please send a thorough description of your character, and of the picture itself (pose, clothes, background, etc.)
I do accept hentai commissions including, but not limited to, yuri/yaoi. You must be of at least 18 years of age to request a hentai commission and I won't be held responsible if you're not! International bidders request hentai at their own risk!! I cannot guarantee it'll make it through your customs and will not be held responsible if it doesn't. I know some people in Canada have had troubles with hentai, so beware.

What happens when you win...
After the bidding is over and I've received the description of the picture, I ask the buyer to please give me from four days to a week to complete the initial drawing. I will draw an initial sketch and fix it until it meets the buyer's requirements, and then start working on the finished piece. The sketch will be done on ordinary printer paper, and the finished piece will be on thick watercolor paper. If the buyer selects the CG medium option, I'll provide the URL for the CG'd peice or e-mail the JPG file to you. (I will send the address to the buyer, note that it can be quite big in size and take a while to download. Also, I will delete it after a while (at minimum a week) and send a high-quality print of the finished CG'd picture in quality glossy paper. I'll keep a JPG copy of the of the scanned pencil, colored pencil and or CG and can display it on a personal website anytime. You may display the picture on your website if you desire, as long as you give me credit.

The drawing will be signed on the back of the paper, in pen. (my initial and last name) and Sailor Lum, if you like, and/or the Japanese writing of my name if you prefer.
Payments accepted are, Paypal, Billpoint and Money Orders. International buyers must pay with Paypal. Shipping in the U.S. is $4.00 Priority shipping. Insurance is optional and can be purchased for $1.50. If you are an international bidder shipping is also $4.00 with no insurance. Win multiple auctions and save on shipping (in the US pay the flate rate of $4 for all auctions combined). I must recieve a reply within 3 days of auction's end and payment must be recieved within 7 days after the end of auction, or negative feedback and a non-paying bidder notice will be left. For more infromation go to my About Me page or e-mail me with inquiries.

Thank you for looking at my auction and good luck